Security Intelligence Platform
BLUEMAX

BLUEMAX
We can build network-specific security products to respond against various threats from inside and outside, and provide a sophisticated integrated security management environment to create a secure corporate environment from external attacks.
Key Functions
Cognition-based Control of Application/User/Device
Signature-based Threat Blocking
Service Configuration Diagram
BLUEMAX Network Security Architecture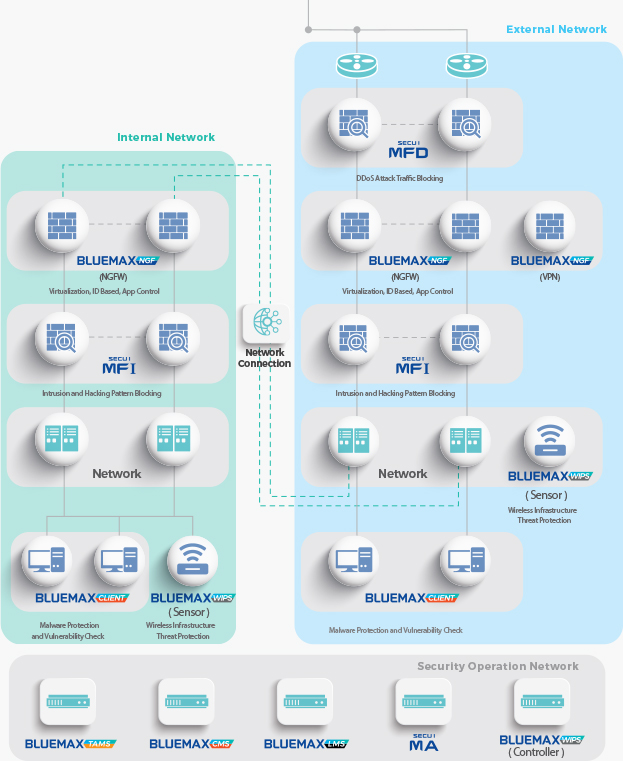 Service Features
Sophisticated Security Level Provides highest level of security through virtualized cloud network security, integrated security platform for wired/wireless IT infrastructure environment, traffic analysis using AI engine, and so forth. It proactively and quickly responds to the latest security threats, and prevents your internal information leakage.

Integrated Security Environment Provides integrated security environment of BLUEMAX network security architecture. You can integrally operate solutions such as wireless security, AI threat detection, internal information leakage prevention, anti-DDos, and policy analysis.

Cost Savings Business-specific products are available in three solution lineups. You can save money on security management by choosing AIbased threat detection, TMS, policy analysis, and anti-DDoS as the model that suits your business size.
Expected Service Effects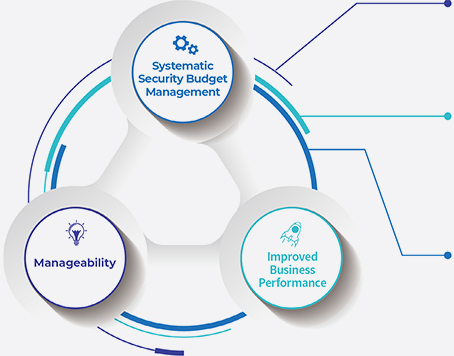 Manageability

Analyzes threat information and automates security policy validation. You can plan and run security policies in the long term thanks to improved manageability.

Systematic Security Budget Management

You can choose the right products for your business size by solution area, reducing security management cost and forming more efficient budget plans.

Improved Business Performance

Why don't you prevent sophisticated security threats and advanced attacks through access control, threat detection and security management solutions? We build a safe environment where you can focus only on your business.
Service Product Lineup
Network Security
Sort
Small Scale
Medium Scale
Large Scale
BLUEMAX NGF
(NGFW / VPN)
Model Name
100
200
300
500
1000
1500
2000
5000
20000
Throughput
2 Gbps
4 Gbps
6 Gbps
8 Gbps
12 Gbps
16 Gbps
50 Gbps
120 Gbps
320 Gbps
BLUEMAX NGF VE
(Virtual Edition)
Model Name
100
200
300
500
1000
-
-
-
-
Throughput
2 Gbps
4 Gbps
6 Gbps
8 Gbps
10 Gbps
SECUI MFI
(IPS)
Model Name
1500
2200
4200
21000
Throughput
4 Gbps
10 Gbps
40 Gbps
100 Gbps
SECUI MFD
(Anti-DDoS)
Model Name
2100
4100
21000
Throughput
4 Gbps
10 Gbps
40 Gbps
BLUEMAX WIPS
(Sensor)
Model Name
602
604
Standard
IEEE 802. 11 a/b/g/n/ac/ax
Antenna
2 x 2
4 x 4
BLUEMAX WIPS
(Controller)
Model Name
1000
2000
3000
5000
No. of Dev.(max.)
50
200
500
1,000
Threat Detection and Protection
Sort
Small / Medium Scale
Large Scale
BLUEMAX CMS
(Client Management System)
Model Name
100
1000
5000
Number of Devices(max.)
1,000
3,000
10,000
SECUI MA
(Anti-APT)
Model Name
1000
5000
Throughput
4 Gbps
40 Gbps
Number of Analysis Cases per Day
10,000 Cases
30,000 Cases
Security Management
Sort
Small Scale
Medium Scale
Large Scale
BLUEMAX TAMS
(TMS)
Model Name
100
1000
5000
Number of Devices(max.)
100
1,000
5,000
BLUEMAX LMS
(Log Management System)
Configuration
Single
Dual Redundancy
Over Triple Redundancy
Log Size per Day
1~50G
51G~100G
Over 100G