IT/OT Endpoint Security Solution
DEVICEMAX

DEVICEMAX
We build a business environment that ensures smooth and safe work through each terminal solution that efficiently manages all channels and devices used by company personnel.
Service Features
Sophisticated Security Level Signatureless solution that effectively protects the operating system against threats such as malware and hacking based on specified rules without updating and scanning.

Maintaining System Performance Customer's own engine that protects the operating system without any analysis and scanning uses minimal resources in protecting the system safe without compromising system performance.

Best protection for device and IoT environment Authentication security of various devices and platforms prevents attacks from external threats, and advanced encryption techniques ensure confidentiality and integrity.
Product Introduction

AppGuard - OS Protection
A structure that fundamentally protects OS by controlling system privileges to complement the limitation of general antivirus products.
Malicious Code DetectionSignatureless type solution providing high security level.
System Privilege ControlFundamental OS protection and complementation of general antivirus products.
Operating ConvenienceNo need to update to provide operating convenience.
Minimal System ResourceOS protection by using minimal resources.
Differentiation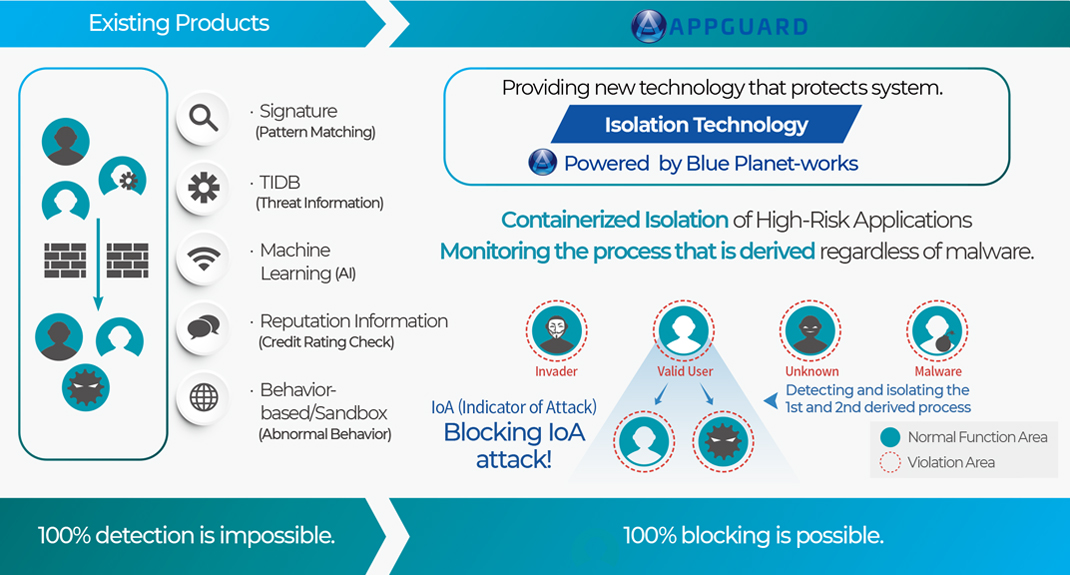 Trustica - IoT Security
As a solution to protect the terminal in IoT environment, this is provided in SDK structure so that it can be applied to various platforms.
Reliable Authentication MethodProviding secure authentication method using strong encryption algorithm.
Diversified Platform ProvisionSDK method applicable to various platforms.
Multiple Encryption MethodMulti encrypting method ensures data stability.


Trustica Mobile - Mobile Terminal Security
A mobile terminal security solution for voice and chat communications when using sensitive corporate data in a mobile environment or that require confidentiality.
Data Leakage PreventionStoring data in a reliable domain to prevent leakage.
Encrypted CommunicationsEncrypting voice and data communications to block external exposure (taps/eavesdropping).
Guaranteed IntegrityData integrity check to prevent forgery/modulation.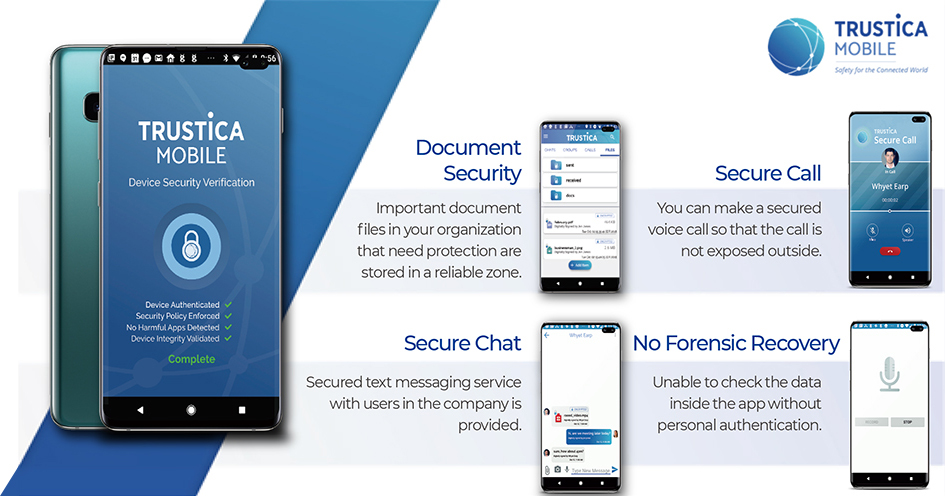 Expected Service Effects
Improved Business Performance System resource minimization of work environment terminal enables smooth business progress.
We provide an environment that is safer and delivers more.
Fundamental Solution for Data Leakage With a variety of solutions to prevent data leakage and maintain integrity, you can create a secure business environment without worrying about managing the corporate critical data.
Reduced Cost and Manpower for Security Management With the growing burden of security management in response to diversified and sophisticated threats, rational solutions can reduce management costs and manpower.