IT Infrastructure Virtualization & Security Solution
VIRTUALMAX

VIRTUALMAX
Virtualize your infrastructure and build a secure environment in a simple, reliable, and easy-to-use way.
Service Configuration Diagram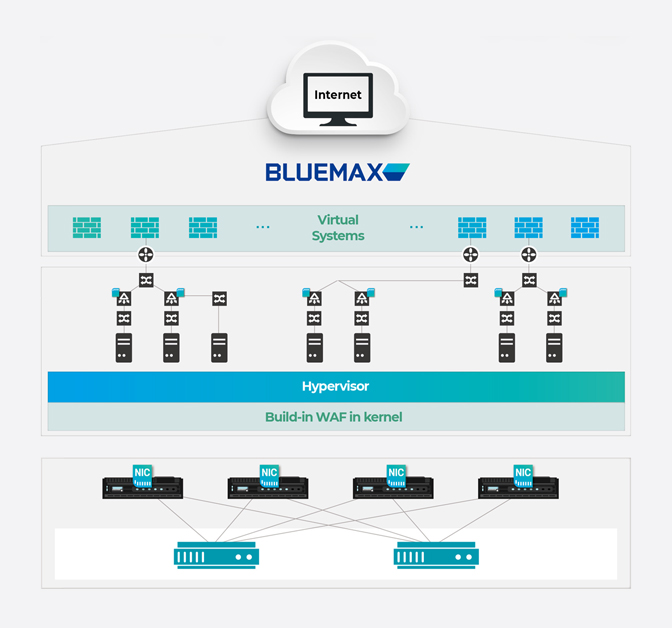 Differentiation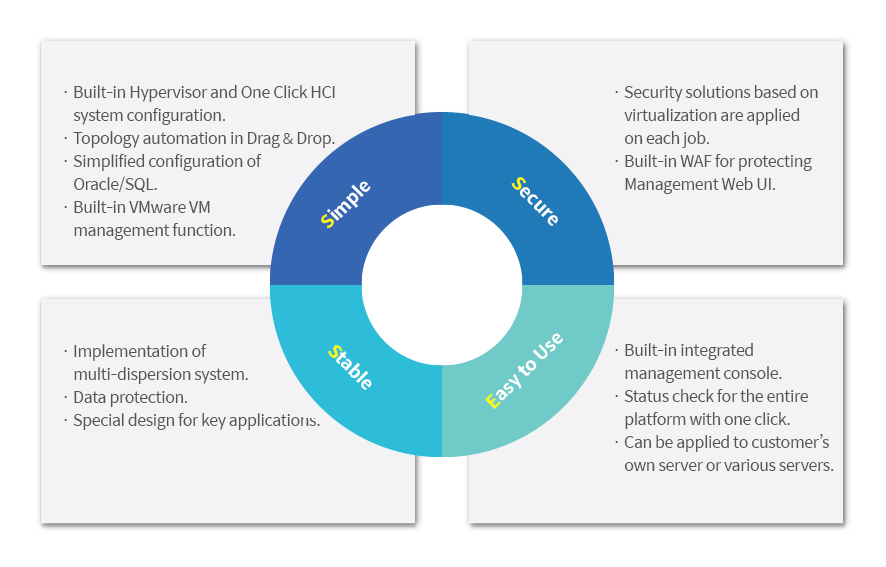 Key Functions
Server Virtualization

Configuration of functions that can compose of a virtual machine (VM).
Virtual machines can be created indefinitely depending on hardware capabilities.
Instant virtual machine creation by drag & drop.

Network Virtualization

Provision of embedded switch function.
Embedded firewall function provision.
Provision of L4/L7 switch function.

Storage Virtualization

Integrated configuration of all HDDs and SDDs composed in the system.
Integrated operation and virtualization of multiple disks.
Ability to operate in a single virtual space up to 2304TB of capacity.

DR & Backup

Maximized operational stability by applying snapshot for each VM.
Data protecting function by operating backup solution for each VM.
Immediate operation of Remote DR Center by providing DR function.

Security Solution

Provision of next generation firewall (BLUEMAX NGF) virtual system.
Providing Software WAF solution for web server installation.
HIPS solution provision for host protection.

SDDC

Easy to build SDDC by providing batch management function of large-scale system.
Provision of system and network management portal for convenient SDDC operation.
Provision of SDDC dual operation for Global SDDC operation.
Service Features
Security Solution and Integrated Infrastructure Reliability is achieved by implementing multiple distributed systems. Flexible resource allocation and automation features that take into account your network operation environment enable you to reliably support your business across infrastructure and apply business-specific security solutions.

Easy to Manage Server and network configuration and security deployment are supported in a package form, so it is easy to adopt, and the entire platform status can be inspected with one click. In the case of virtual server, you can create virtual machine immediately by drag & drop.It can be created unlimitedly according to hardware performance.

Cost savings Simplified backbone and switch configurations resulting from decreased quantity of physical servers enable our customers to save cost to introduce solution, as well as less space and power required, resulting in lower operating costs. You can also reduce the duplexing cost through own implementation of multi-backup.
Expected Service Effects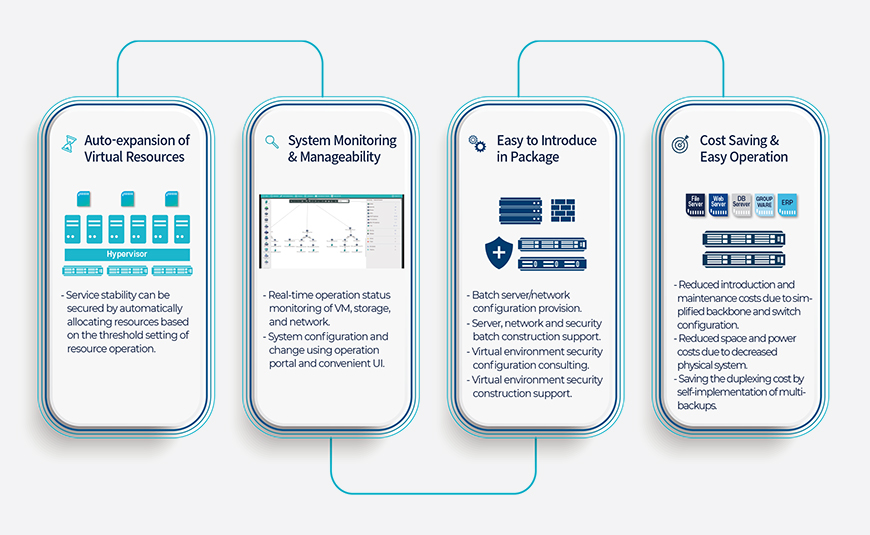 Package Line-up
Virtualization Implementing Function
Sort
Applied Solution
Details of Function
Server Virtualization
aSV
Provision of VM (virtual machine, server) creation function (No limit on the server generation quantity).
Providing web-based user interface (Basic installation of Kernel-based WAF for UI hacking defense).
Network Virtualization
aNET
Providing embedded switch and router.
Switch-based virtual network can be created (Possible to operate the separated individual network).
Embedded firewall with blocking function is installed by default.
vAD
Providing the virtual L4 and L7 switch function for application delivery function (including GSLB function).
Storage Virtualization
aSAN
Function for construction of multi-disk integrated virtualization environment.
Implementing functions such as data auto copying and storing function, SSD accelerated reading & writing function, and I/O localization function.
Host Manager
aHM
VMWARE heterogeneous management and backup.
Data Protection
CDP
Continuous Data Protection.
Restoring data to the state when it is desired to restore by continuously tracking and saving the original data change state (Data Time Machine).
SDDC
aCMP
Cloud Management Platform.
Ability to configure and manage a dualized (domestic, overseas, etc.) and virtualized environment into one management environment.
Server System Configuration
Applied Model
(3 Nodes)
Main Specification (1 Node)
CPU
Memory
SSD
HDD-DATA
NIC
OS
Cache
DATA
10Gbps
1Gbps
VMAX-A
Intel®Xeon Gold 6254 * 2EA
512GB
SSD 240GB x 2EA
N/A
SSD 3.84TB * 10EA
2Port
4Port
VMAX-H
Intel®Xeon Gold 5215 * 2EA
256GB
SSD 240GB x 2EA
SSD 960GB x 2EA
N/A
8TB * 8EA
2Port
4Port
VMAX-L
Intel®Xeon Silver 4108 * 2EA
128GB
SSD 240GB x 2EA
SSD 960GB x 2EA
N/A
4TB * 8EA
2Port
4Port
Security Solution Configuration
Sort
Applied Solution
Detailed Function
Firewall
BLUEMAX
SECUI Next-Generation Firewall (Possible to run multiple virtualized firewalls through Virtual System Function).
BLUEMAX-VE
SECUI Next-Generation Firewall Virtualized Version (Software Firewall).
WAF
Deep Finder
Web Application Firewall for installation of Web server – Small capacity and high speed prevent service delays.
HIPS
AppGuard for Server
System protection professional solution for server OS protection.
Intercept X for Server
Host IPS solution dedicated for anti-ransom and behavior blocking.
Vulnerability Diagnosis
VADA
Solution for diagnosing and analyzing various vulnerabilities such as system compliance violation.
Network Configuration
Sort
Applied Solution
Feature
Number of Unit (Min. /Rec)
Data Transit
10G Switch
Operates UTP Port for 10 Gbps / Real-time data replication and movement
1/2
Overlay
1G Switch
Operates UTP Port for 1 Gbps / VM relocation & redeployment (when hardware fails)
1/2
Internet
10G Switch
Operates UTP Port for 10 Gbps / Service port for external user access (optional)
1/2
1G based Switch
Operates UTP Port for 1 Gbps / Service port for external user access (default)
1/2
Management
1G Switch
Operates UTP Port for 1 Gbps / Port for virtual system admin access (default)
1/2