Total cloud security service built on a single platform
CloudMAX is an integrated cloud security service platform optimized to cloud environments.
Security solutions are built into SECUI's service platform, providing multi-tenancy and usage-based billing system to customers. Customers can view service details and receive reports on real-time through managed portal.
Security services are provided to customer's public cloud infrastructure through a managed service platform
Threat analysis and response service provided by scanning cloud server instances and network or monitoring cloud traffic
Offering usage-based billing system(based on usage period and host count, etc)
Customers are provided with a dedicated portal, where necessary security service canbe selected or service history and reports can be viewed on real-time
Customers can add SECUI's managed security services Based on a 24*7 threat response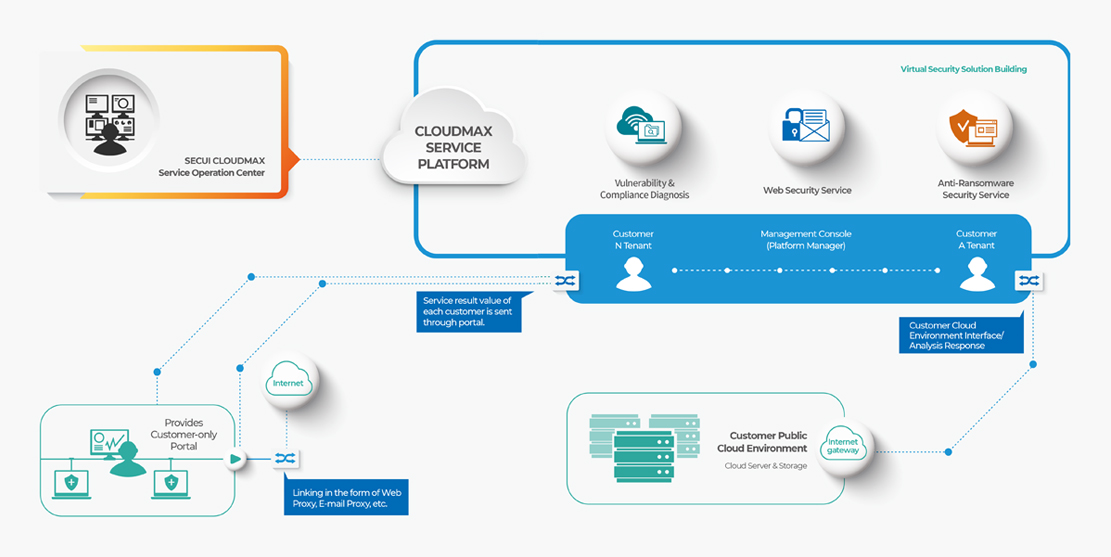 Why 'CloudMAX' Matters
As threats on cloud environment increase day by day, enterprises' expense for managing cloud security also increase. But shortage on cloud security experts result in necessity for an alternative service.
Increase in cloud Security threats

51% of enterprises and institutions around the world are cyber-attacked against cloud infra(Checkpoint cyber attack report, 2018)
Expansion of information leakage path
Complexity of security solutions against security threats

Increased cloud security management cost

Increased management cost on cloud security measures and operations
Hackers are finding cloud-infrastructure vulnerabilities with high computer power

Lack of cloud security experts

Difficulty in training cloud security experts
Lack of expertise in cloud security incidents and up-to-date solutions
CloudMAX is an on-demand, and pay-as-you-go security service optimized for analysis and response of cloud security threats, while reducing TCO of cloud security operation similar to public cloud services like AWS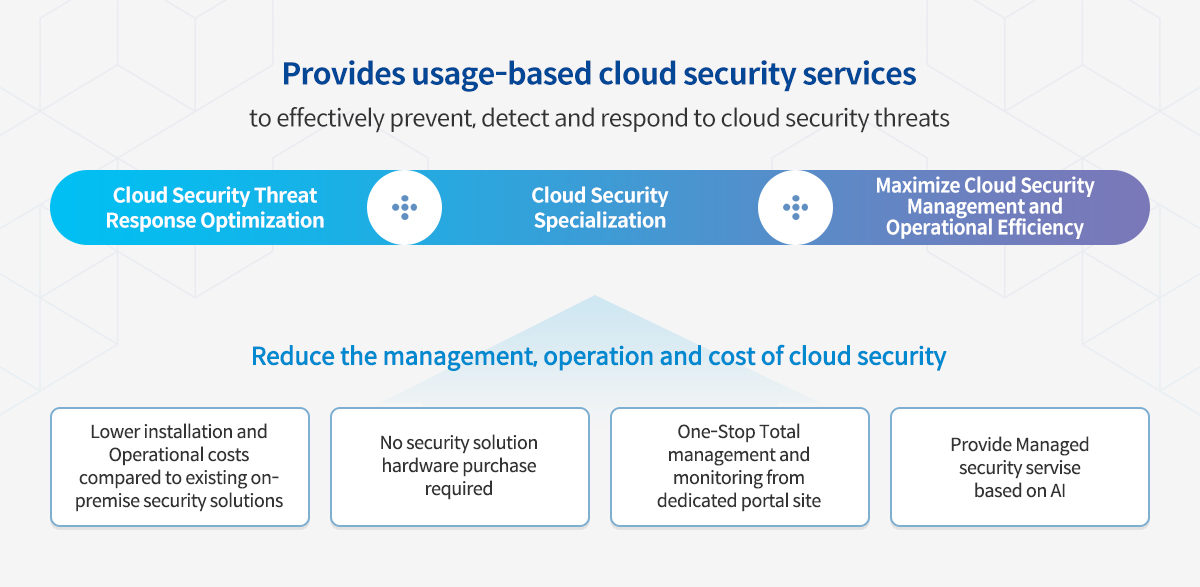 CloudMAX Services
CloudMAX provides a pre-customized security service depending on the various cloud environments, different customers needs and an easy integrated management through a dedicated service portal.
SECUI's cloud security experts provide optimized cloud security services.
Providing customized security services for various customer cloud computing environments and attacks

Provide various security services according to customer's cloud environment and needs

Customers can choose the services they need
Continuously expand the cloud security services area

Convenient total management in dedicated service portals

Dedicated Service Portal Through total Dashboard, you can monitor and reoeive a report on all the services you have a pplied, and could be total cloud security Management

One Click, One Page, Real-time checking and management of service history

SECUI cloud security expert service execution

SECUI's expert security experts who have accumulated network technology and developed security solutions and experienced in security consulting service of information protection professional company respond to various cloud infrastructure attacks.

TI(Threat Intelligence) organization that collects external attack information
Dedicated Service Portal
Customers can view service details, and receive reports through the dedicated service portal.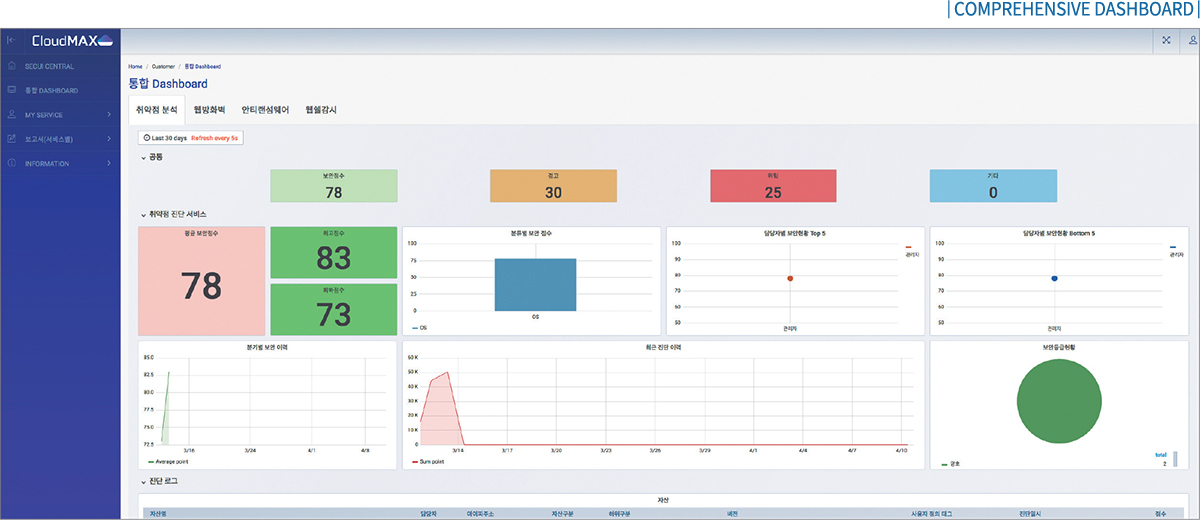 List of Services
Vulnerability & Compliance Assessment Service

KISA, the analysis of thchnical vulnerability of major IT infrastructure issued by the Ministry of Government Administration and Home Affairs, detailed guidance on evaluation method, and details of problems discovered by checking security weakness of system based on domestic security guideline. It provides one-stop analysis from cause analysis to effective resolution

Web Application Firewall Service

A Web security solution is installed within a web server, and the web server itself performs security operations for the web sites provided by the customer through the public cloud infrastructure. Provides real-time deteciton / response / anti-virus service optimized for web attacks such as cloud web application vulnerability attack

Web Shell Detection Service

It examines webshells produced in various languages and detects new unpatterned webshells in real time. It protects files, scripts, and source code from being tampered with and prevents tampering with customer's important infromation and homepage by designating directory. It also allows restoration of up / modulated files.

Anti-Ransomware Service

CARB context aware detection engine with 100% signatureless technology that allows only 'normal changes' of data files (documents, photos, videos, etc.) and 'blocks unauthorized changes'.